A Collars & Cuffs Story:
Leo and Alex's Story
Since the death of his submissive lover two years ago, Leo hasn't been living—merely existing. He focuses on making Collars & Cuffs, a BDSM club in Manchester's gay village, successful. That changes the night he and his business partner have their weekly meeting at Severinos. Leo can't keep his eyes off the new server. The shy man seems determined to avoid Leo's gaze, but that's like a red rag to a bull. Leo loves a challenge.
Alex Daniels works at Severinos to scrape together the money to move out on his own. He struggles with coming out, but he's drawn to Leo, the gorgeous guy with the icy-blue eyes who's been eating in his area nearly every night.
Leo won't let Alex's hesitance get in the way. He even keeps him away from the club so as not to scare him. And as for telling Alex that Leo is a Dom? Not a good idea. One date becomes two, but date two leads to Leo's bedroom… and Alex discovers things about himself he never realized—and never wanted anyone to see.
This is Leo and Alex's story and oh what a story it is. I really do not want to say too much about their story because you have to read it to appreciate the awesomeness of this series. This is the first book in the series and let me tell you Leo is a broken man after a tragedy hits him and he thinks he will never be happy again. Then he meets Alex and boy oh boy does Alex intrigue him enough for Leo to ask him out on a date.
At first Alex denies Leo a date but soon realizes that when Leo wants something he will do whatever it takes to get it and Leo has decided after one date he wants Alex. Alex is shy and keeps to himself because he comes from a family of haters and they will not accept the fact that he likes men. His younger brother does some mean and nasty things to Alex and Leo has had enough so Leo takes Alex in and shows him a life like no other.
Leo takes the time to show Alex what it is supposed to be like when you're in a relationship and how people are supposed to treat you every day. At first Alex has a hard time adapting but soon Alex is understanding things differently especially when Leo introduces him to his BDSM club called Collars and Cuffs. Alex learns a new way of life and accepts it and embraces it with open arms. It is not easy being with Leo and Alex has some family drama as well but when the two of them collide together in a scene it is true love in its purest form.
Collars and Cuffs: Book Two
Christmas is a time for goodwill to all, but Collars and Cuffs co-owner Thomas Williams receives an unexpected gift that chills him to the bone. A Dom from another Manchester club asks Thomas for his help rescuing an abused submissive, Peter Nicholson. Thomas takes in the young man as a favor to a friend, offering space and time to heal, but he makes it clear he's never had a sub and doesn't want one.
Peter finds Thomas's home calm and peaceful, but his past has left him unwilling to trust another Dom. When Thomas doesn't behave as Peter expects, Peter's nightmares begin to fade, and he decides he'd like to learn more about D/s life. A well-known trainer of submissives, Thomas begins to teach Peter, but as the new submissive opens up to him, Thomas finds he cares more for Peter than he should. Just as he decides it's time to find a permanent Dom for Peter, they discover Peter's tormentor is still very much a threat. With their lives in danger, Thomas can't deny his feelings for Peter any longer. The question now becomes, can Peter make it out of the lions' den alive, so that Thomas can tell his boy that he loves him?
This is the story of Thomas co-owner of Collar and Cuffs and Peter an abused submissive. This is the second book in the series and to say it started off with a bang is an understatement. We start off by meeting Peter who is an abused sub and being rescued by one of Thomas's and Leo's friend.
When Peter comes to Thomas he is shy and cowards at everything. He does what he is told and he does not give Thomas any problems but Thomas soon understands that Peter thinks all subs are supposed to act like salves instead of subs that choose to have a Master. As a sub the sub has all the power because they can say yes or no and choose what scene they will participate in and Thomas wants to make sure that Peter knows this.
Soon Peter decides after reading the sub handbook he really wants Thomas as his Master. Only one problem Thomas does not want a sub. He is semi-retired and he does not want to teach Peter because he thinks he is too old for Peter. But Peter is determined to have Thomas as his Master and he does whatever he has to get Thomas as a Master.
Will Thomas give in and become Peter's Master…… or will Peter be Master less?
A Collars and Cuffs Novel
Third book in the series
Eighteen-year-old Scott Keating knows a whole world exists beyond his parents' strict control, but until he gains access to the World Wide Web, he really has no idea what's out there. In a chat room, Scott meets "JeffUK." Jeff loves and understands him, and when he offers to bring Scott to the UK, Scott seizes his chance to escape his humdrum life and see the world. But when his plane touches down and Jeff isn't there, panic sets in.
Collars & Cuffs favorite barman and Dom-in-training, Ben Winters, drops his sister off at the airport and finds a lost, anxious Scott. Hearing Scott's story sets off alarm bells, along with his protective instincts. Taking pity on the naïve boy, Ben offers him a place to crash and invites him to Collars & Cuffs, hoping his bosses will know how to help. Scott dreams of belonging to someone, heart and soul. Ben longs for a sub of his own. And neither man sees what's right under his nose.
In this third book of the series we meet Scott who is from The United States and meets a guy Jeff from the UK and as they get to know each other Jeff offers to fly Scott out to The UK so they can explore their relationship that they have built on the web. The only problem is when Scott gets to the UK airport Jeff is no where to be found. Lost and confused Scott starts to panic because he has no way back to The United States the plane ticket was a one way ticket.
Ben oh man Ben he is the bartender at Collars and Cuffs and he is one of my favorites because he has a heart of gold and he is a Dom in training. His sister has met a guy and she is leaving the UK to be with her boyfriend. So Ben drives her to the airport and when he is about to leave he sees Scott standing in a corner scared and alone. So he approaches Scott and asks him if he needs help and at first Scott says no but soon realizes no one is coming for him. When he tells Ben the story Ben contacts Leo and Thomas to find out what to do. They end up at Collars and Cuffs and Leo and Thomas try and find out what is going on.
Leo asks Ben to take the lad home until they can find him a Master. At first Ben does not want to do that but he tells Leo okay. As Ben and Scott get to know each other Ben soon develops feelings for Scott and Scott is smitten with Ben and wants him as a Master but will Ben become his Dom……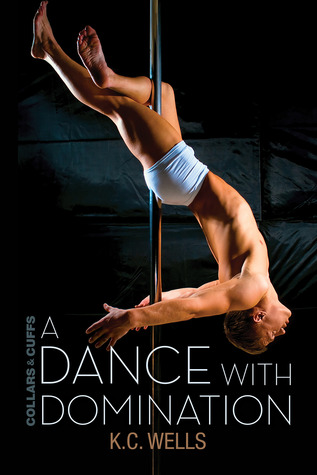 A Collars and Cuffs Novel
Fourth book in the series
Recently returned to the UK after living in the States since he was eleven, Andrew Barrett is determined to keep busy and make a new life for himself. He works full time as a copywriter and strips at a club on Canal Street on weekends. But it still leaves him too much time to think. Then he finds the BDSM club, Collars & Cuffs, where at twenty-nine, he is their youngest Dom. Young doesn't mean inexperienced, however. All this activity keeps him focused with no time to dwell on the past. But the past has a way of intruding on the present.
It's been four long years since Gareth Michaels last set foot inside Collars & Cuffs. But when he finally summons his courage and steps back into his former world, he finds the man who drove him away is still a member, and what's more, he wants Gareth back. Two men in pain need the freedom they find in each other, but it takes another man's horrific plans to make them see it.
Oh Holy Baby Jesus KC Wells is a brilliant author! Okay this is the fourth book in the series and let me tell you I have never laughed so hard and cried so much reading a book. Gareth and Andrew's story is so amazing that you can't put the book down. I mean I started reading it on my kindle and I could not put it down. I did not want to stop reading it because it had so many facets to it that I could not figure out what was going to happen the next second.
Gareth is a sub whose contract ended and he did not take on another Dom. He was so heartbroken because he loved his Master and wanted to renew his contract but his Master wanted someone younger and trainable. So Gareth got a job in a retail store and started stripping to supplement his income. He stayed in touch with Leo and Thomas at first but then stopped when he realized he was not going to go back to Collar and Cuffs. So he made new friends and started stripping and kept to himself. That was until he met Master Andrew.
Andrew lived in the UK but moved to the United States with his parents. A tragedy happened to him and he decided he would move back to the UK. When he meets Gareth something sparks there between them but Andrew has been hurt and he is closed off and so has Gareth. So what happens when the two off them realize they do care for one another? Will Gareth and Andrew break through the barriers and become a couple or will they let their past hurts dictate what is going to happen to them in the end……..